✨It Works
System

!✨

🎀Super Simple!!

🔹WRAP every 3 days drinking lots of water 💧
🔹Remove & Replace: Remove bad foods 🍕🍟🍔🌮🎂🍫🍦🍺 & Replace with healthier foods 🍎🍌🍊🌽🍠🍇 for 2-4 days
🔹Reboot every day! 🔋 Boost your metabolism using Thermofit 🔥and re-energize with Greens! 💪🏽

‼And most IMPORTANTLY stay hydrated! 💧‼

💥Do you think you could do this for 30 days?💥

MAKE THIS THE YEAR YOU TURN YOUR RESOLUTIONS INTO "LIFE-SHAKING" RESULTS WITH THE IT WORKS! SYSTEM!

You know the power each of our amazing It Works! products has, but using them together in a developed system delivers even better results! That's the power of It Works! product synergy, and it's what drives our It Works! System! It's three of our best products working together, inside and out, to help you look better and live healthier!
START YOUR RESULTS IN JUST 45 MINUTES WITH THAT CRAZY WRAP THING™!
The powerful, botanically based cream formula of the Ultimate Body Applicator™ gives you tightening, toning, and firming results that last!
Deeply hydrates and nourishes the skin
Helps reduce the appearance of cellulite
Gives you visible results in as little as 45 minutes
Continues to work for progressive results over 72 hours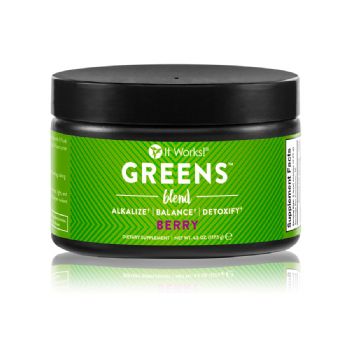 GREENS™ – BERRY
Not eating all of the fruits and veggies that you should? Feeling sluggish and off balance? Want more energy to get through your day? Help detoxify, alkalize and energize your body with every glass of Greens, now with an even better pH-balancing blend that includes an acidity-fighting combination of magnesium and potassium for even more alkalizing properties. The added probiotic support helps you better maintain that healthy balance by keeping your digestive system regular and toxins flowing out.
With multiple servings of fruits and vegetables and a blend of 38 herbs and nutrient-rich superfoods, Greens provides naturally occurring, bioavailable vitamins, minerals, antioxidants, phytonutrients, and enzymes to give your already well-balanced diet a nutritional boost. It's maximum support for your best health, all in a new delicious berry flavor.
Detoxify, alkalize, and promote pH balance within the body
Acidity-fighting magnesium and potassium blend
Cutting-edge probiotic support for digestive health
38 herbs and nutrient-rich superfoods
Multiple servings of fruits and vegetables in every scoop
Free radical-fighting antioxidants
Great-tasting berry flavor
ULTIMATE THERMOFIT™
Ultimate ThermoFit – Thermogenic Weight Loss Formula with Acai Berry and Capsimax®
Fire up your metabolism with this naturally based, thermogenic weight loss formula! Powered by the antioxidant superfood acai berry and the metabolism-boosting properties of Capsimax® (red hot pepper blend), Ultimate ThermoFit helps to:
Thermogenic weight loss formula
Antioxidant benefits of acai berry
Promotes increased calorie burning
Helps boost metabolic rate
Reduces appetite
Provides energy
IT WORKS! SYSTEM™
WRAP. REMOVE. REBOOT.™   
Special System Pricing!  
$29 Savings!
Includes: 1 box Ultimate Body Applicator™ (4 Applications), 1 jar Greens™ Berry, 1 bottle Ultimate ThermoFit™, 1 It Works! Blender Bottle
$ 119.00
LOYAL CUSTOMER PRICE
RETAIL PRICE: $ 198.00
http://shrinkwrapyourself.com/wp-content/uploads/sites/7/2016/01/it-works-system.png
187
402
Susie Reel
http://susiereel.itworksglobalwebsites.com/wp-content/uploads/sites/7/2015/04/susie-reel.png
Susie Reel
2016-01-14 15:18:33
2016-01-14 15:29:04
The It Works System